JCP Books, LLC
m/m paranormal & horror
Weird and wonderful ebooks you'll want to read again and again!
find a book
Enter your own search term:
Loading
Merchandise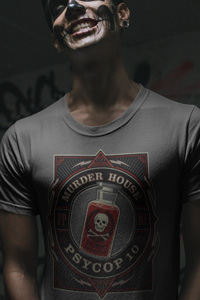 Check out JCPBooks Merchandise, including fundraiser T-Shirts for the Murder House audiobook
Questions?
See our FAQ page!
The River's Edge: MM Romantic Suspense
Standalone
Length: Novella, 70 pages
Cover artist: Jordan Castillo Price

Summary
Two lost souls…one uncanny journey.
Cynic, enforcer, and all-around dangerous guy—Gino is hardly surprised to find himself dumped on the riverbank. His gun, wallet and cellphone are long gone, though he has been left with one hell of a splitting headache.
But Gino's not the only one in dire straits. Soon a damaged young man named Shane discovers his party friends aren't really friends at all, and now he too is stuck in the middle of nowhere.
One man is a blunt weapon, while the other has never quite measured up—neither with any good prospects for a bright future. But when their paths collide, they embark on an extraordinary journey of redemption and self-discovery. Together, they confront the unknown and forge an unbreakable bond that defies the odds. Will they find solace and salvation, or will they be consumed by the secrets of their past?
The River's Edge is a dark and atmospheric suspense novella short enough to read in one or two sittings.
New to KU: The ABCs of Spellcraft
The Complete Series is now available in Kindle Unlimited. Also in audio, and Nick Hudson, the voice of Dixon and Yuri, is an utter delight! - listen to a sample!
1. Quill Me Now
1.5. All that Glitters
3. Something Stinks at the Spa
The ABCs of Spellcraft Collection Vol. 1 (books 1-4) in Audiobook and Paperback
The ABCs of Spellcraft Collection, Volume 2 (novellas 5-7 in paperback) Also in Audio USA / UK
8. Present Tense (A Spellcraft Christmas Short)
10. Forging Ahead
11. Mayor May Not
The ABCs of Spellcraft Collection, Volume 3 (novellas 8-11 in paperback) - Audio USA / UK
12. Bucket List
13. Comic Sans
The ABCs of Spellcraft Collection, Volume 4
Check out the Practical Penn T-shirts and mugs on the Merchandise page!
Final SPELLCRAFT: It's All Relative
Series: The ABCs of Spellcraft 14
Length: Novella, 34000 words
Cover artist: Jordan Castillo Price - see larger cover

Summary
If Spellcrafters value anything, it's family. (And a good deal from the clearance rack, and an exceptional hand of poker. But mainly family.)
So, when a long-lost relative surfaces, everyone is absolutely thrilled…until the newcomer challenges Dixon for the title of Hand.
Yuri is perfectly willing to force the usurper back under whatever rock he crawled out from, but Dixon insists on proving himself the best man for the job. A magic string chose him as the Hand, after all. And while Spellcraft can be capricious, surely it would never let Dixon down.
Would it?
To make matters worse, Dixon's attention is divided. Not only is he scrambling through town on a magical scavenger hunt, but a Handless customer with a sob story has him searching for her lost dog. Because, as Yuri points out, there's always a dog.
From one end of Pinyin Bay to the other, the whole family pitches in to help Dixon keep his rightful place in the final installment of this heartwarming series.
LATEST Psycop - Subtle Bodies
Series: PsyCop
Length: Novel, 87000 words
Cover artist: Jordan Castillo Price - see larger cover

$4.99 at many online retailers
Summary
"It's probably nothing…."
Usually, when Victor Bayne is called upon to investigate a ghostly apparition, the "haunting" can be chalked up to a perfectly mundane cause. When he's sent to check out some suspicious phenomena in small-town Iowa—and no one seems unduly alarmed—he's hoping for more of a weekend getaway. Especially since he's bringing along Jacob as his Stiff.
He ends up finding way more than he bargained for. Women undressing in public—with no memory of doing so. A car rental agent who knows far more than she should. And a shocking discovery they must keep to themselves at all costs.
Instead of merely supporting Vic, Jacob finds himself thrust into the driver's seat, using a talent that's clumsy and untested. And when Vic starts acting just as strange as the stripping women, all bets are off.
Can Vic and Jacob get a handle on the situation before FPMP National storms in and shuts them down for good?
Subtle Bodies FAQ
-audiobook in production, hopefully will be out by the end of November 2022
-the fundraiser T-shirts that make audio possible are on the Merchandise page
-not the last PsyCop novel
LATEST Collection - SEASONS: PsyCop BRIEFS VOL 2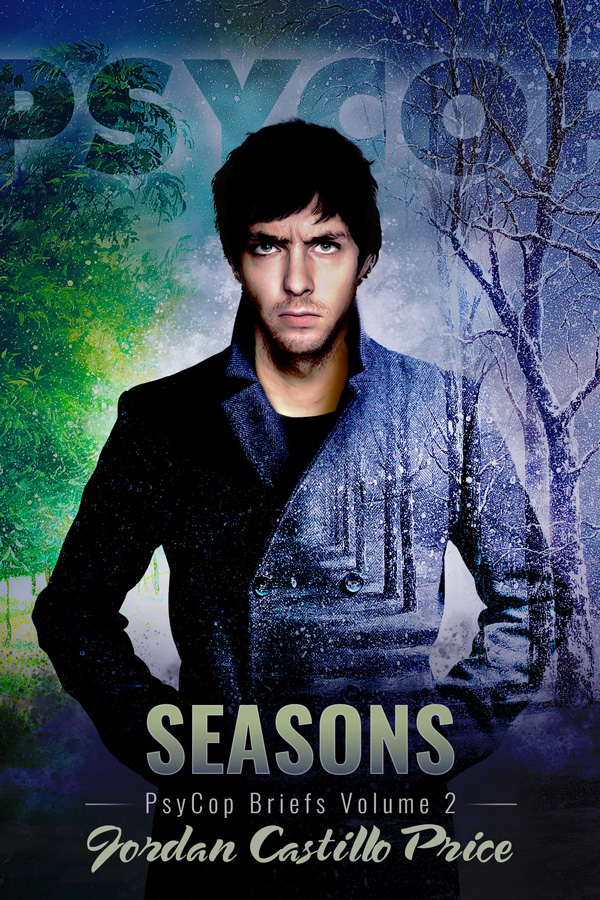 Series: PsyCop
Length: Novel, 80000 words
Cover artist: Jordan Castillo Price - see larger cover

$4.99 at many online retailers
Summary
Neither snow nor rain nor heat nor gloom of night…will keep a PsyCop from his duty. Because ghosts don't take snow days.
Seasons: PsyCop Briefs, Volume 2 contains four novelettes and fourteen short stories. This all-new, novel length collection begins right where PsyCop 12, Other Half, left off, with Vic and Jacob's honeymoon. It then cycles through each season, highlighting various moments in the series with laughs, scares, tender domestic scenes, and of course, ghosts—then circles around to Other Half again.
Stories include:
Summer - Last Resort, Potato Potahto, To the Letter, The Perfect Storm, The Grass is Always Greener
Fall - On the Ball, Treat Me Right, Sticker Shock, One Bad Apple
Winter - Roadside Resistance, Don't Sweat It, Cold Case, Can't Take It With You, Holiday Cheer
Spring - Dead Zone, Honey Do, Impostor Syndrome, Tie the Knot
Seasons FAQ
-audiobook now available! US | UK | FR | DE
-the fundraiser T-shirts that make audio possible are on the Merchandise page
-not the last PsyCop novel
Support JCP's Audiobooks
Audio production can be expensive for an independent author. My audio projects take months, sometimes years, to even recoup their production costs.

Audiobooks are pricy to make. I have considered Patreon and decided it would take too much of my time away from my broader readership. Instead, I've come up with some alternative ways you can support the project.
Fundraiser T-shirts - Buy a PsyCop or Spellcraft T-shirt or other merchandise. T-shirt sales funded nearly HALF the production cost of Skin After Skin. That's huge!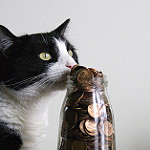 Tip Jar - The way audiobook distribution is currently structured, the author makes less per sale than the middlemen. Not all of my audios earn back their production costs. If you're loving the audios and receive hours of entertainment from them, consider dropping a few bucks in the tip jar. It will add up!
Monthly Donation - If you're so inclined, you can do this through the tip jar, too!
Thaw Audiobook
Free audio, read by Gomez Pugh.
View Larger Cover
Download MP3, free (8 minutes)

Or simply play audiobook here in your browser:
Find Among the Living and Criss Cross in audio too!
Excerpt
I'm the last guy in the world who cares about sports, whether we're talking about the Cubs, Sox, Bulls or Bears, or for that matter anything even remotely athletic. So I was a little surprised when Jacob suggested that we take a trip downtown to go ice skating. But nowhere near as surprised as he was when I told him I thought it was a great idea.
What Jacob didn't know was that I'd played pee-wee hockey the winter I was eleven. (I didn't give a rat's ass about hockey. I had a crush on the goalie.) And what I didn't know was that the ice rink would look so cool after sunset. All the bare trees along Michigan Avenue had been wrapped in white Christmas lights, and the whole Chicago skyline blazed behind them. Millennium Park was insanely cold, but it was gorgeous.
Jacob must have figured out that I could skate before we even got out on the ice. Not only is he smart that way, but I'm about as easy to read as a billboard. Even so, he still spent more time checking me out than he did enjoying the scenery. It's weird, the way he stares. He doesn't stop when I catch him at it. He just smiles a little.
Thaw is also available as a free ebook!