JCP Books, LLC
m/m paranormal & horror
Weird and wonderful ebooks you'll want to read again and again!
find a book
Enter your own search term:
Loading
Merchandise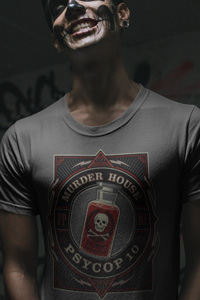 Check out JCPBooks Merchandise, including fundraiser T-Shirts for the Murder House audiobook
Questions?
See our FAQ page!
Dead Man's Quill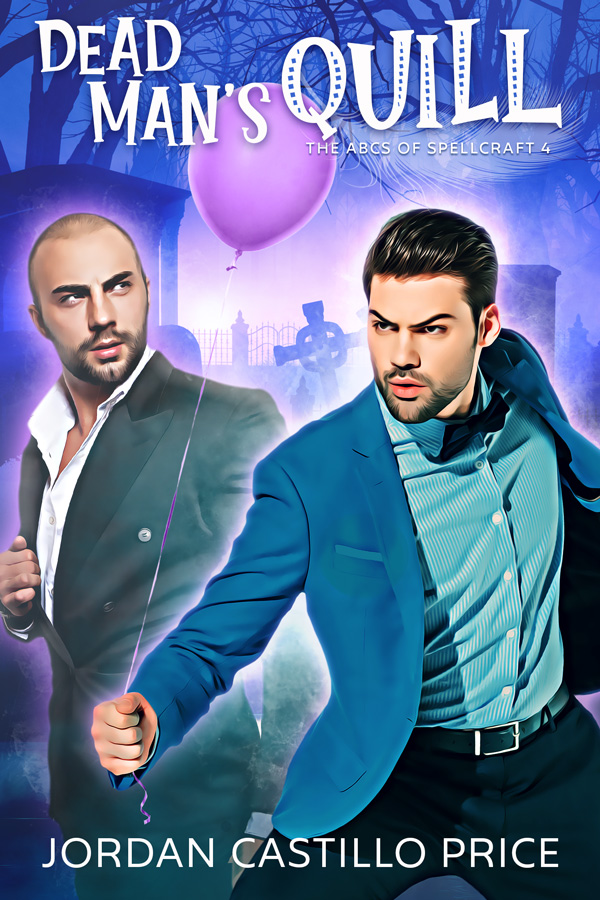 Series: The ABCs of Spellcraft 4
Length: Novella, 26000 words
Cover artist: Jordan Castillo Price - see larger cover

RELEASE DATE: August 8, 2019
$2.99
Summary
It's all fun and games until someone loses a hand.
Dixon has been dying to introduce Yuri to Uncle Fonzo, the Hand of his family, and now he'll finally get that chance. All they need to do is meet him at a traveling carnival with an unused piece of Spellcraft.
Easy peasy, right?
Not even a little. And even worse, they might encounter a clown.
Uncle Fonzo has left a trail of magical destruction in his wake, but he claims he's been helping people. Spellcrafters are a slippery bunch, and it's hard to say if he's stretching the truth or telling an outright lie. One thing's for sure, he's between a rock and a hard place now, and if he doesn't deliver an outrageous ransom to Strange Manor by midnight, all deals are off.
From a lackluster carnival with a booby-trapped tour bus to the decrepit mausoleum behind an old mental asylum, the Spellcraft leads Dixon and Yuri on a goose chase that's not only wild…but deadly.
The ABCs of Spellcraft is a series filled with bad jokes and good magic, where MM Romance meets Paranormal Cozy. A perky hero, a brooding love interest, and delightfully twisty-turny stories that never end up quite where you'd expect. The books are best read in order, so be sure to start at the beginning with Quill Me Now.
The ABCs of Spellcraft Series
1. Quill Me Now
1.5. All that Glitters
3. Something Stinks at the Spa
Murder House
PsyCop 10 by Jordan Castillo Price
Length: 77,000 words
Victor Bayne has survived demons, ghosts and repeaters. But can he survive a murder house?
Few people would willingly spend the night in a murder house, but Victor Bayne is up for the challenge. He'll do whatever it takes to get a look at his permanent record, including going undercover in a townhouse where a recent death took place. Why not? There was no foul play involved, and as a psychic medium, he'd know if a ghost was creeping up on him. The whole "murder house" claim is just a product of a kid's overactive imagination, and he's confident he has the situation under control.
Until he gets a load of the smell.
Turns out, undercover work is a lot tougher than it looks. Vic misses Jacob something fierce. The subject of his assignment is a real piece of work. His partner has definitely got something to hide…and then the investigation takes a truly bizarre turn.
What happens if the murder house reveals itself to be more than just a schoolyard rumor?
PsyCop is an ongoing series filled with supernatural action and delightfully awkward humor—with a steady undercurrent of gay romance. It's best read in order, so if you're new to the series, start with PsyCop #1, Among the Living…and prepare for a hauntingly good read.
---
Murder House FAQ
-ebook is available now at all your favorite online retailers
-paperback is available now at Amazon
-audio with Gomez Pugh now at Amazon, iTunes and Audible
-the fundraiser T-shirts that make audio possible are on the Merchandise page
-not the last PsyCop novel
Support JCP's Audiobooks
Audio production can be expensive for an independent author. My audio projects take months, sometimes years, to even recoup their production costs.

Audiobooks are pricy to make. I have considered Patreon and decided it would take too much of my time away from my broader readership. Instead, I've come up with some alternative ways you can support the project.
Fundraiser T-shirts - Buy an Agent Bayne T-shirt or other merchandise. T-shirt sales funded nearly HALF the production cost of Skin After Skin. That's huge!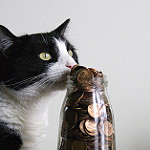 Tip Jar - The way audiobook distribution is currently structured, the author makes less per sale than the middlemen. Not all of my audios earn back their production costs. If you're loving the audios and receive hours of entertainment from them, consider dropping a few bucks in the tip jar. It will add up!
Monthly Donation - If you're so inclined, you can do this through the tip jar, too!
bestseller Audio Release
Hemovore
Performed by Joel Leslie
★ ★ ★ ★ ★
"I find the world building to be phenomenal, the characters intriguing, and the entire story brilliant."
-J.R.

"It was an utter delight to work with Joel on this project. I felt like he totally "got" Mark from the beginning and it was so amazing to hear the story unfold just like it did in my head, that I had a book hangover from my own darn book after hearing the audio!" - Jordan
Summary
Mark Hansen thought working as artist's assistant would be glamorous, especially if that artist was a vampire. Black tie events, witty repartee, gracing the pages of the local style section…. Didn't happen. Not even once.

Jonathan Varga is an enigma. True, he's quiet, generous, and scrupulously polite. But he has zero social life, refuses to be interviewed or photographed, and insists he can only consume feline blood.

Why supermarket blood won't suffice, Mark hasn't asked. He's rarely at a loss for words—he can dish an insult and follow it with a snap as quick as you can say "Miss Thang." But one look at Jonathan's black-as-sin gypsy eyes, and Mark's objections drain away.

So he endures the perpetual grind of their routine: Jonathan hiding in his studio, swiping black paint onto black canvases. Mark hurling insults while he buffs the office to a shine with antiviral wipes. Each of them avoiding the other in a careful choreography…until a blurb in Art in America unleashes a chain of harrowing events neither of them could foresee.

As secrets from Jonathan's past are brought to light, it becomes clear that all his precautions weren't nearly enough.

On Kindle Unlimited
I've been placing some of my backlist titles on Kindle Unlimited to give readers an opportunity to read these books as part of their subscriptions. KU is a great deal for high-volume readers.
Currently, Bittersweet Candy Kisses is free to read on Kindle Unlimited.
Not currently a KU member? Try it free. Join Amazon Kindle Unlimited 30-Day Free Trial
| | | |
| --- | --- | --- |
| | | |
| A mind-bending trip across the Bermuda Triangle. Interracial MM Sci Fi romance | Imagine a world without hunger... A fast-paced MMM sci fi thriller | Twelve decadently dark stories: some bitter, some sweet |
| | | |
Latest Freebies
Right now, the hottest free goodies are:
Hue, Tint and Shade
FREE FOR A LIMITED TIME
A dollop of sweetness, a pinch of angst, and a big sprinkle of magic. Read the first novella from the Bittersweet Candy Kisses anthology for free
Hue, Tint & Shade

Free with newsletter signup at Prolific Works
Thaw Audiobook
Free audio, read by Gomez Pugh.
View Larger Cover
Download MP3, free (8 minutes)

Or simply play audiobook here in your browser:
Find Among the Living and Criss Cross in audio too!
Excerpt
I'm the last guy in the world who cares about sports, whether we're talking about the Cubs, Sox, Bulls or Bears, or for that matter anything even remotely athletic. So I was a little surprised when Jacob suggested that we take a trip downtown to go ice skating. But nowhere near as surprised as he was when I told him I thought it was a great idea.
What Jacob didn't know was that I'd played pee-wee hockey the winter I was eleven. (I didn't give a rat's ass about hockey. I had a crush on the goalie.) And what I didn't know was that the ice rink would look so cool after sunset. All the bare trees along Michigan Avenue had been wrapped in white Christmas lights, and the whole Chicago skyline blazed behind them. Millennium Park was insanely cold, but it was gorgeous.
Jacob must have figured out that I could skate before we even got out on the ice. Not only is he smart that way, but I'm about as easy to read as a billboard. Even so, he still spent more time checking me out than he did enjoying the scenery. It's weird, the way he stares. He doesn't stop when I catch him at it. He just smiles a little.
Thaw is also available as a free ebook!